a brief history of rf motorsport
Drag Racing came to Europe in the beginning of the 1960s with races in England, and it came to Scandinavia with the "First Go" meeting at Anderstorp Raceway in Sweden in 1968. Ten years later Norway had its first race.
1978
The first race in Fyresdal in 1978 was legendary, with large snow embankments surrounding the runway in the middle of the Norwegian mountainous landscape. 18,000 people were there, or at least paid entrance-money for the event during the weekend, and they got to see Rune Fjeld make his debut and win the Pro Comp competition class (Top Methanol) in his Wrangler-sponsored Ford Pinto. After this, Rune Fjeld and Rune Fjeld Motorsport became a regular at the top of the European drag-racing. For Rune Fjeld, the victory at his debut race was not enough; he won the entire Pro Comp Cup in 1978 and was made Drag Racer of the Year. The best E.T. was 7.40, and he would soon run faster.
1979
Rune Fjeld's ambitions were higher than racing on methanol. The King of all classes was, in Runes perspective, Funny Car, and the fuel was Nitro methane. The Pinto was sold after his first season to Anders Lian, and during the winter Shirl Greers Ford Mustang II nitro Funny arrived at Runes workshop in Ski. Methanol was from now on something you added to the Nitro.
It was not going to be easy to follow up the success from his debut season the year before. To run on Nitro and Methanol are two different worlds, so the first year of running Funny Car was filled with problems. With Landlubber as sponsor, Rune and his team drove a 7.10 E.T at the best, but 1979 went into history as a learning year. The results already came the following year.
1980
New European speed-record, 239,23 mph (385 Km/t), at
Santa Pod Raceway
. With 6.58 as the best E.T. and several victories. 1980 was a good year.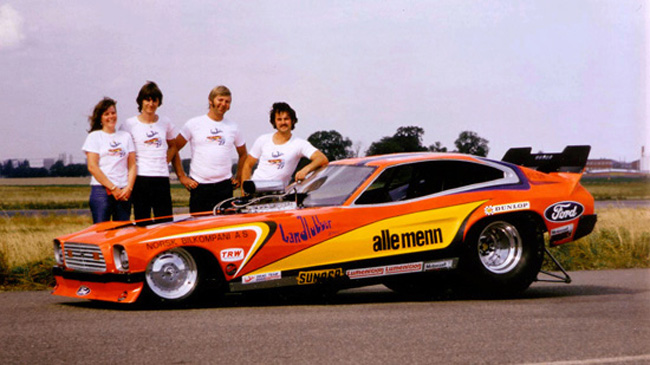 1981
The replacement of the Mustang body with the best of that time, Plymouth Arrow, was a result of the urge for renewal. Don "The Snake" Prudhomme drove an Arrow, and Rune Fjeld, whose friends had named him "Huggorm" (a Norwegian name for "Snake") because he likes the sun better and gets tired in the cold, followed. But it turned out to be a bad choice. The problems lined up and the season became one they would rather forget about.
1982
The year after was not much to talk about either. Nitro was still unknown to them and there were several obstacles in their way.
1983
New look gives a new success. The Arrow is replaced with Al Burgler's "Motown Shaker" Pontiac Trans Am. The team is finally starting to figure out the mystery of the Nitro and, amongst other things, they set a new European E.T record, 6.15, at Mantorp Park in Sweden.
1984
The Shaker Racing Team with Rune Fjeld, Erik Østby and Tommy Jensen toured around Europe and had a fun season except for the results.
1985
But they got back on track. Nitro was no longer a guessing game. The E.T.'s became more consistent, and they made progress. They experienced victories throughout the season.
1986
The Trans Am got a new paint job after being raced as it arrived from USA. Rune wins the biggest Funny Car competition of the year – Cannonball at Santa Pod in England. and sets a new European ET record of 6.03.
1987
They achieve consistent results, but with no progress. The team participates in most races throughout Europe and attends several match races.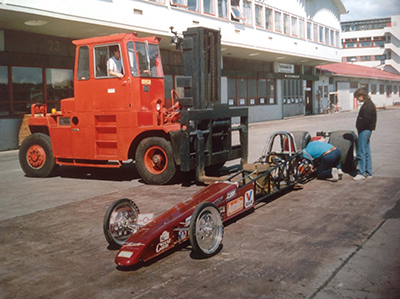 1988
The team is expanded. Liv Berstad, who earlier made her self known by having crazy wheelies with a Chevrolet Chevelle in the class Modified Standard, and later drove Jan Wærness new Pro Stock Chevrolet Camaro, let herself be persuaded into driving a Top Fuel car. A new era for European drag racing had begun.
Joe Amato's dragster was bought and flown in to Europe. Liv makes her first appearance at Mantorp Park in Sweden. The Funny Car was sold to Urs Erbacher after this season.
1989
Thanks to Atle Mostad, the team was sponsored by Mobil, Pepsi and KappAhl. Rune buys a Chevrolet Beretta Funny Car from Bruce Larson. The team achieves some good results, but the great E.T.'s are still to come. Liv turns out to be a huge attraction in European drag racing, and the team tours around Europe.
1990
Rune goes to USA and buys Tom Hoover's Pontiac Trans Am Funny Car. He enters the NHRA Gatornationals in Florida while he's there. In his first qualifying session he runs a 5.58 which is good enough for number 14 qualifier. Back in Europe, Rune sets a new European ET record of 5.57, which remained unchallenged for eight years. Liv sets one record after another, and at Santa Pod raceway she ends the year with a 5.13, which stood as a record for many years.
1991
Liv gets a new Top Fuel dragster as Rune buys Joe Amato's, double NHRA-winning Top Fueler, but last years record seems too hard to beat.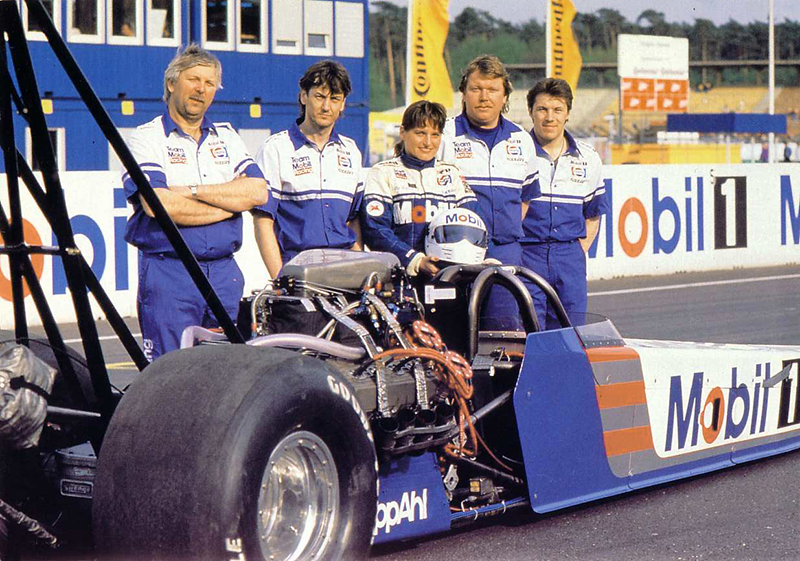 1992
The chase for the first 4 second run makes things hard. European tracks are not good enough for the new American combinations. Instead of making a 4 second run, they keep smoking the tires.
1993
There are lots of new problems, as the American combinations do not suite the European tracks and weather conditions.
1994
Rune Fjeld is stepping down as a funny car driver. Line Evensen makes a few runs in the funny car, while
Risto Poutiainen
races the Top Fueler as Liv is on maternity leave.
1995
Liv enters only one race this year. Gary Page races Rune's Funny car which now has a mustang body.
1996
Rune Fjeld becomes the crew chief for Rico Anthes Top Fuel team, who wins the ETFA European Championship. Runes own Top Fueler only makes a few runs this year with Risto Poutiainen, and Gary Page continues as the driver of the Funny Car.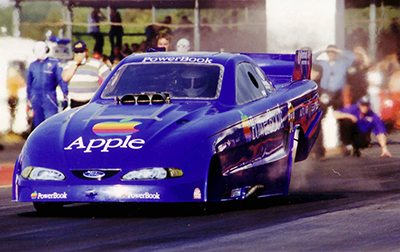 1997
An era is over. After almost 20 years of "floppers". Rune sells his Funny Car to Leanders Bros. Who will race it as a TMFC. Rune continues as Crew Chief for Rico Anthes, while
Barry Sheavills
becomes the driver of RF Motorsport's Top Fueler.
1998
Finally a season filled with progress. RF Motorsport races on tracks that match the potential of the car.
Barry
is a consistent 4-second driver and this season gives RF Motorsport its first European FIA Championship.
Rune makes his last appearance in a dragster during the production of the film "Benzin im blut" in Spain. During the 14 days they burned 2.000 liters of nitro, and 10 sets of slicks. It was a lot of work, but a fun experience that they would like to repeat.
1999
RF Motorsport expands. A new Top Fueler is bought from Joe Amato again, the very last chassis that Al Swindahl built before he died.
Barry
drives the new car while US-legend Gordie "240" Bonin drives the old one. Gordie sponsored by Prolong shows everyone what an amazing driver he is, and he wins the entire European FIA-Championship.
2000
Gordie goes back to America, and the old car has only a few appearances.
Barry
continues with his long time sponsor Wynns, and finishes the season as runner up in the championship.
2001
Andy Carter
becomes the driver of the "old" dragster. Andy wins the FIA-Championship which becomes the 3rd in RF Motorsport within 4 years.
Barry
is a challenging competitor in the new dragster.
2002
Andy
and
Barry
continue as drivers for RF Motorsport and make the first "side by side" 4 second run and and the very first 300mp/h run in European history. Barry crossed the line first on a redlight.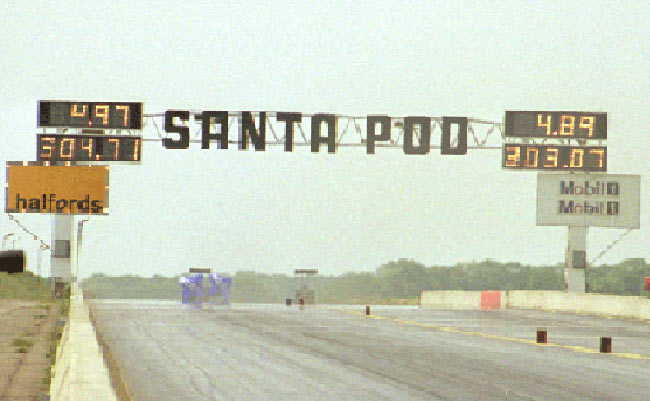 Barry has a terrible crash at Santa Pod raceway during the finals, but escaped without serious injury. He then decides to give racing a break. The car is history.
2003
The old dragster is retired as the worlds most winning dragster with 2 NHRA and four FIA championships. Rune replaces the old one with a new Spitzer chassis from Doug Herbert. Øyvor Jacobsen and Peter Beck share the role as driver of the Top Fueler.
2004
A brand new Hadman chassis replaces the old one, and
Thomas Nataas
makes the step up from Pro Mod to Top Fuel, as the driver of the new dragster.
Andy Carter
is back in the Spitzer-dragster and wins the European FIA Championship for the second time. Andy runs a best of 4.76, while Thomas runs a best of 4.88 in his rookie year as a Top Fuel racer, and becomes runner up at the finals at
Santa Pod Raceway.
2005
The team continues with the same drivers as the previous year, but with some problems.
Thomas
is runner-up at some of the races, but no big wins.
Siw Nystad gets a test run in the Batmobile at Gardermoen, "a new star is born".
2006
Thomas Nataas
wins his first FIA-race in Finland and becomes runner up in the European FIA Championship. Another brand new Hadman-chassis arrives from America, and it is used for
Siw Nystad
,
Janne Ahonen
and Torstein Risdal to make their licensing runs.
Janne Ahonen enters one race in Alastaro, where he proves himself worthy of his license.
Siw becomes the driver of the Spitzer car when
Andy
quits in the middle of the season. Siw impresses everyone at Gardermoen when she leaves Micke Kaagered at the starting line and runs a 4.96 at 496 Km/h in her first competition run.
RF Motorsport shows up at Bahrain International Circuit in October with three Top Fuel cars. Thomas, Siw and Barry impress the audience with their performance at the amazing track in Bahrain.
2007
RF Motorsport enters their 30th season at the top of European drag racing.
Thomas Nataas
and
Siw Nystad
will continue in their respective cars in the FIA championship, chasing RF Motorsport's 5th FIA Championship.
Janne Ahonen
will drive the third car.
Jari Halinen will attend a few races.
Thomas Nataas is also planning to buy a Nitro Funny Car from America so that this class once again will rule the tracks of European racing, something Rune Fjeld probably will not mind at all!
2008
RF Motorsport added a funny car bought by Bjørn Andersen. A mixed season, with various drivers, like Torstein Risdal and
Linda Thun Tønseth
. Only
Jari Halinen
was racing the whole season.
Risto Poutiainen
is back in the team, and will race for the championship in 2009.
2009
Rune Fjeld is proudly inducted into the British Drag racing Hall of fame.
Risto Poutiainen starts his first full FIA season, and ends up as a strong runner up. He also sets a new official European record for 1000Ft in Mantorp.
Jari Halinen
only attended 3 races this year, and so did
Janne Ahonen.
Linda Thun Tonseth
competed at Santa Pod and Mantorp park where she qualified third.
John Webster
raced and won at Santa Pod Finals.
Thomas Nataas made some seriously strong runs in the Funny Car.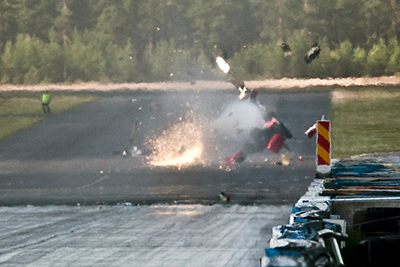 Risto continues where he left off, hunting for the Championship. He has a bad crash in Alastaro when Stig Nergard crosses into Risto's lane and pulls the chutes in Risto's face.
The car is a total wreck, but Risto's dedicated crew rebuilds the spare car overnight. With only one qualifying session left, Risto goes out and qualifies first. He ended up losing a close final.
Jari
and
Janne
are also strong contenders for the FIA Championship. RF Motorsport also make some exhibition runs in Hungary.
Rosie Millberg fulfilled her dream of driving a Top Fuel Dragster while making a film for Swedish Television.
Shelley Pearson and
Antti Horto
both earn their Top Fuel license with RFM.
2011
Risto and Jari are once again competing for the FIA Championship. Risto sets the speed record for both 1000ft. and quarter mile The quarter mile record of 317.06 MPH will now stand forever. He ends up no 2 for the third year running. Jari ends up as # 7 in the championship. The third car has several different drivers including Shelley Pearson and Antti Horto. Antti goes on to win at Alastaro in his second race.
Long term crew member Laurie Bamford tries out as a driver, running a strong 4.9 @ 307 as one of the last quarter mile runs, and in difficult conditions.
2012
A great year for RF Motorsport.Risto finally becomes the European FIA Champion with Jari in a strong second place, and Antti finishes in the number 4 spot. Duncan Micallef takes his TF license and competes in one race.
2013
Risto
only race at The Main Event before he has to return to take care of his business. Micke Kagered runs the car in Tierp.
Chris Andrews
is a new driver for RF Motorsport this year. He attends four events, and ends up as # 6.
Duncan
does the last 3 championship races, and ends up as # 11.
Jari
runs the whole season and ends in the sixth spot
Antti
won the first race at
Santa Pod
, but could not attend the last, and ended up as # 4 in the European FIA Championship.
2014
We had the same drivers as last year.
Jari
filled in for
Chris
when he broke his shoulder, and ended up number 11. Chris with only 3 races ended up as number 9.
Antti
came out for 2 races and ended up as number 8, and
Duncan
in his first full season became number 4.
2015
New drivers for this year was
Birgitte Bremnes
from Norway only doing one race, and
Liam Jones
from England.
Duncan
continued with a full season, and was number 5 after a troubled season. Liam ended up in forth after his first full season.
Jari
also had a troubled season and ended up as number 6.
2016
Liam
was the only driver to race the whole season, and ended up number 4 again.
Duncan
did the last 2 races and became number 7.
Steve Ashdown
was new this year with 2 races and 9th. in the championship.
Antti
only came out once.
2017
A great year as RF Motorsport enters their 40th. season, and for
Duncan
, as he ran the whole championship and became the European FIA Champion.
Antti
also with a full season ended up in second place.
Liam
slipped to sixth.
2018
Another year with
Liam
,
Duncan
and
Antti
out for the full championship. Antti once again ended up with a great second place, with Liam third and Duncan in fourth place.
2019
This year we had two new drivers,
Maja Udtian
and
Susanne Callin
.
Liam
continued for another shot at the title while
Antti
only came out for one race at the new track in Finland, and
Duncan
took a year off. Susanne only raced at Santa Pod. Maja ended as number 2 in the FIA championship, with Liam in another third place. Maja also set the European record twice with a 3.80 as her best and the current record.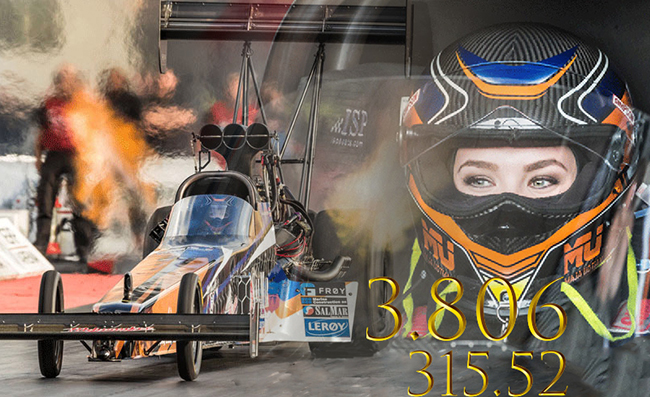 2020
The FIA European Championship was cancelled due to Covid-19. We only came out with Antti and Susanne for "Not the European Finals" where Antti ran a great 3.87 in not so good conditions.
2021
No Championship this year either due to Covid restrictions. We had a new driver,
Ida Zetterstrøm
, that took her license in great style with an early shutoff 3.86. We also did do some match racing at Santa Pod with Antti, Susanne and Ida.