Rico Anthes quarter mile in Hockenheim wasn't prepared as good as normal, so we all struggled with traction after halftrack. Ida qualified second, Anti forth and Susanne was fifth.
For the first time in many years we attended the night show which is the big attraction in Hockenheim.
Susanne finally had her first win in the final over Antti after winning a close race to Ida

15.08.2022
Tierp International Sweden with beautiful northern lights over the pits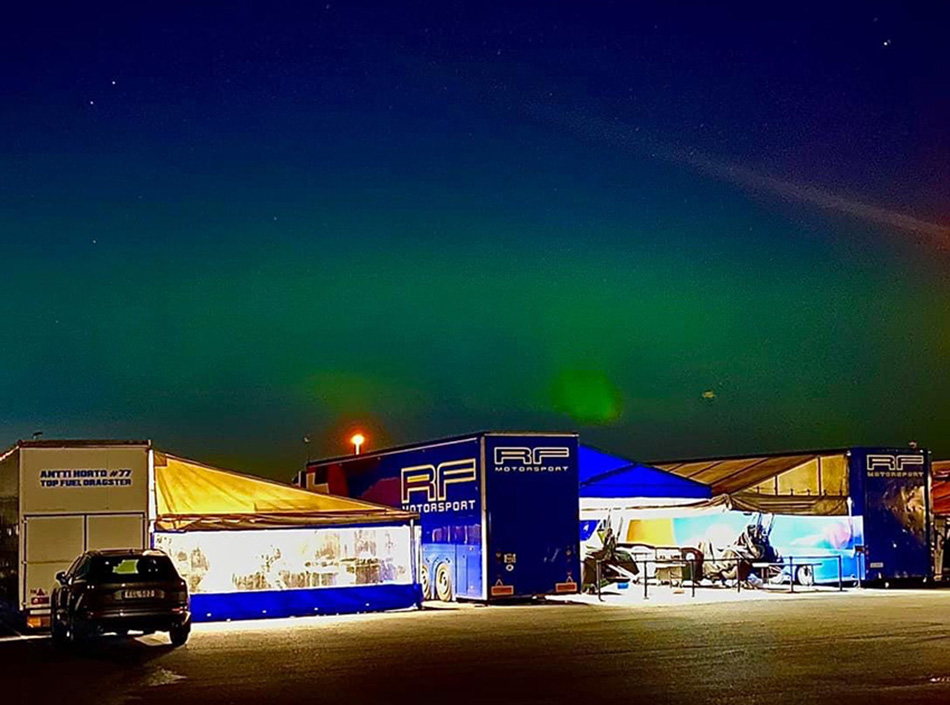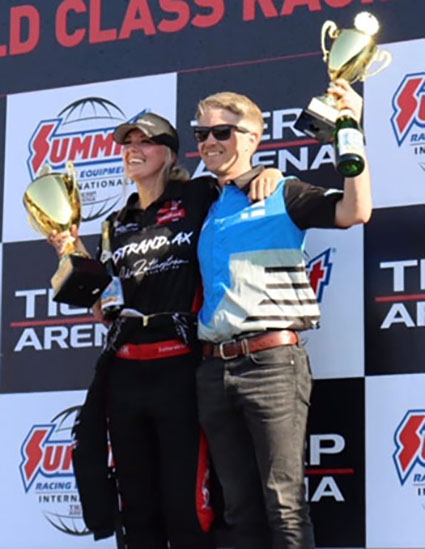 After all the problems with Brexit, carnet and Covid, we finally got to race at Tierp again. With no rain it looked like we were going to have a great race, but it was very hot and humid, not the best conditions for great times.
Antti had problems with an oil leak and could not come out for Friday qualifications. Ida and Susanne were out for the first session with early tire smoke and shut off. In the last session Ida run a belt breaking 3.89 which was good for Q1 on Friday.
On Saturday Antti took the no 1 with a 3.88 while Susanne run an early shut off 4.02 good for Q4. Ida was smoking the tires on both qualifiers.
In the first round on Sunday Ida defeated Tommi Happanen with a great 3.83 to a 3.92. Antti got a single as Susanne was shut off on the line with engine failure. He smoked the tires which gave Ida lane choice for the final.
The Final was an up in smoke for both Ida and Antti. Antti tried to pedal, but blew the burst panel while Ida broke the belt again due to spinning the tires. They both coasted to the finish line where Ida got there first for the win.
Now we're off to Hockenheim for the next round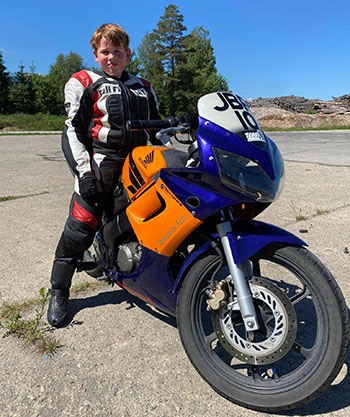 30.06.2022
First race for RFM Dragbike rookie Tian

Nine year old Tian Magnussen from Norway is starting his drag bike season with support from RF Motorsport this year. And the first race for the young boy was at his "home track" Gardermoen Raceway this weekend at the Summer Shot-Out 2022 event. Tian is driving his bike in the junior recruit class, a national Norwegian class for kids up to 11 years old. This year is his second season, and he was quite eager to get on his new bike and turn the throttle. This year he is running on a 2005 Honda CBR 125cc, a bike with good potential for him to grow and learn.
The weekend went well and after some training outside the track the young lad started to get into the groove again and every pass gave big smiles all over. On Sunday he managed to do his best pass ever with a 13,4@88,5km/h crossing the line at 201 meters. That was his pass number 9 for the weekend, but then the rain came and the race was cancelled.
Next up for the young RFM rookie rider is the Norwegian Championship round at Fyresdal, a unique track up in the mountains of Norway, the same place where Rune in 1978 raced for the first time in Norway. A great place with much history of drag racing and we are so happy to be able to race there very soon with the help and support from RF Motorsport.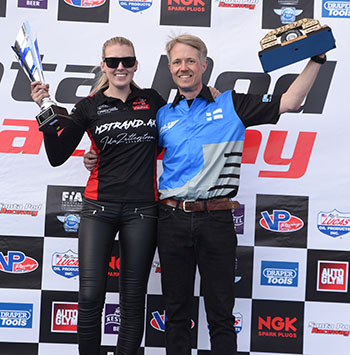 29.05.2022
The Main Event

The first round of the European FIA Championship was not the greatest mostly due to Brexit, but we had all three cars out for the championship race.
Susanne was struggling with some unknown mechanical problems in qualifying which seemed fixed for the first round, but smoked the tires against Antti who set a new personal best with 3.80 and 318 Mph.
Ida was on a first round single pass where she set a new European record with a 3.782 at only 301 Mph. The blower belt broke before the finish line doing 3.01 286 Mph at the 1/8 mile.
In the final Antti run another 3.80 against an up in smoke Ida
The next Championship round should be Tierp if all goes well. Let's hope for some more cars there.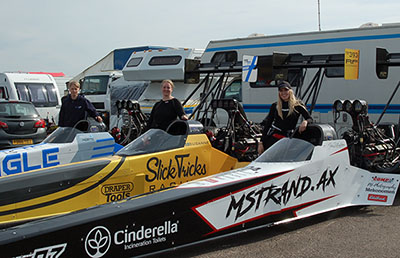 29.04.2022
Festival of Power


It was Antti Horto, Ida Zetterstrøm and Susanne Callin out for the first time of 2022. As Antti only had a skeleton crew we decided that he only made 1 pass a day. Susanne and Ida was to make 5 runs over the weekend.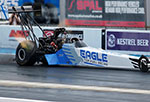 Antti made three 0.82 60ft. passes, but shook at the last supposed full pass. All looking good for the first FIA race at Santa Pod.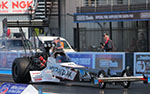 Ida had some great runs and the quickest pass in Europe to the 1/8 mile at 3.01 with an early shutoff 3.83 at 264 Mph. Looking forward to The Main Event.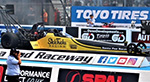 Susanne was struggling with a faulty clutch controller, so she didn't make any full runs. Early numbers looking good, so we hope the new clutch parts will arrive in time for the next race. We then should have all cars in the eighties or maybe a 70 or two 😁👌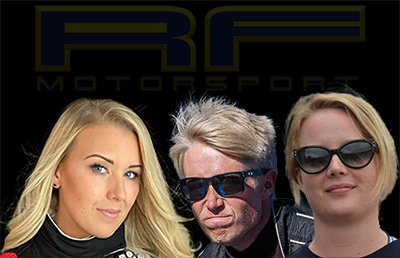 20.12.2021
Our drivers for next year will be Antti Horto, Susanne Callin and Ida Zetterstrøm.
Ida, the only newcomer, gained her license at Santa Pod in September running a great 3.86 at only 265 MPH. as the blower belt broke just after passing the eight mile in 3.03 282 MPH.
Susanne also came out for a few runs at Santa Pod setting personal best with a string of early shut off 3.90 runs.
Antti came to Santa Pod for some runs in June where he had a stout eight mile of 3.03. Shutting off early with only 252 MPH. He also came in September but struggled with tire shake.
So now we are all looking forward to another year, hoping this will be a proper Championship with no Covid restrictions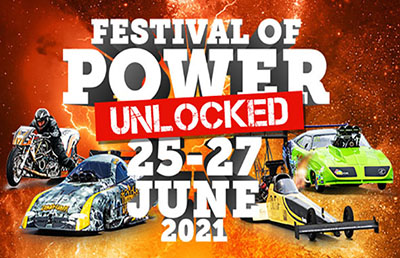 10.04.2021
So it's finally decided that the first three races in the FIA European Championship are cancelled. Still Tierp 2 and Hockenheim will have to be confirmed, so there is a chance there will not be a Championship this year.
If that's the case we will only be racing at Santa Pod and concentrate on the 2022 season.
Our first race this year will be at Santa Pod on the 25 to 27 of June with Susanne confirmed as driver of the Slick Tricks dragster. We will come back with the other drivers as soon as they are confirmed.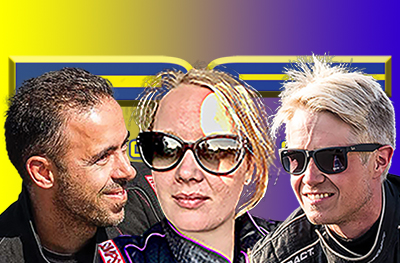 18.02.2021
2020 was a strange year for everyone. We were all ready to go racing at the Easter opening race, but as Covid took hold, everything was cancelled. We did however make one match-race between Susanne and Antti in September.
So here we are in February ever hopeful to go racing again. We are all ready and eager for the season to get under way although the season opener in Easter still looks doubtful.
Hopefully by the time the FIA Championship starts, enough people have had their vaccine, and things will get more back to "normal"
One thing is for sure. Susanne, Antti and Duncan will be fighting for the title.



Santa Pod September 2019: New European record again
After setting a new European record in Tierp Sweden, Maja improves it by a hundred of a second in the last qualifying session at the
Santa Pod Finals