siw nystad
Siw Nystad made her debut in drag racing only 18 years old in 2003. She took her license in a BMW estate, and in the same race she tried a Mustang Super Gas.
She made 3 runs in one of RF Motorsport's Top Fuel Dragsters in 2005 at Gardermoen Raceway in Norway.
Siw took her license and entered her first race in Top Fuel at Exporama Drag Challenge 2006, where she beat Micke Kågered first round with a 4.96 at 496 km/h (309 Mph).
Rookie of the year 2006.
About me
I am a 21 year old girl from Hønefoss in Norway. I grew up with my mum and dad, and two older siblings. Dad has always had an interest in American muscle cars, and this has of cause influenced me.
2001-2004 I studied music at Ringerike Videregående Musikklinjen and part of the education included singing and performing at various shows in Hønefoss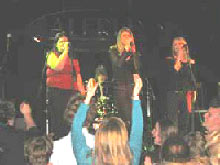 2004/2005 I studied at Buskerud Folkehøgskole – Teaterlinjen Here I studied acting, and this gave me a great experience in acting in various plays. We also arranged our own concerts and plays.
2005/2006 I studied English at Høgskolen i Buskerud. By studying English I hope to get a better understanding of the English and American language, history and culture. I believe this is a good qualification for working abroad.
Work: While I'm studying I have also been working in a cafe where I have made food, taken orders and served the food. I have also worked as a waitress in various Hotels and restaurants, and at present I am a receptionist at Sundvolden Hotell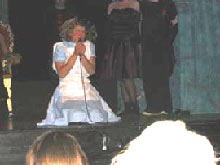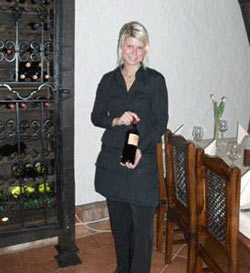 Theater: Since I was 6 years old I have performed in several theater plays with amateur groups. My rolls have been anything from small acts with few lines, to playing Alice in:"Alice in wonder world" and Inés in Jean Paul Satres:"Behind closed doors".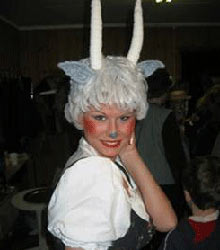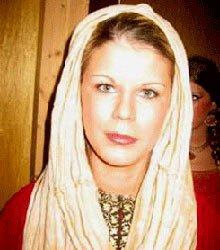 Drag racing: I turned 18 on August 23rd, and two days later I had my driver's license. 3 days later I won the first race I ever entered, a street legal race in Hønefoss. Later that year I got my racing license at Gardermoen Raceway with a BMW estate. Three minutes after I had my license, I tried Richard Bugged Andersen's"big yellow" a Super gas Mustang with close to 800hp. A nervous dad watched me have some instructions before racing down the Drag strip with a grin on my face, and a dream of greater speeds.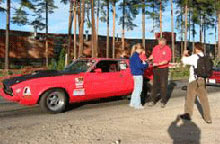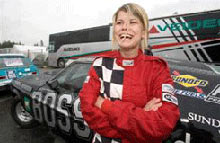 The 2004 – 2005 seasons I participated in many races with my own Mustang, and got a whole lot of media attention. Amongst them interviews in a high profile TV show on Norwegian TV, and interview on High Octane Scandinavia DVD. I was also interviewed in a lot of Norwegian newspapers.
In February 2005 I received a phone call that made me breathless! Ronnie Krabberød, one of Norway's leading motor sport journalists, called and asked if I would be interested in driving one of RF Motorsport's Top Fuel cars. My dream was about to come true earlier than anyone could dream of. After some meetings and talking things over I was ready for my first taste of Top Fuel. In June 2005 I made 3 runs in the car that Thomas normally drives. Then I had to wait until 2006 to finish my license.
I look forward to competing against the other drivers in the FIA European Championship.
siw in bahrain 2006
Tuesday October 26th, 2006;
Early morning, and I am so tired! I keep repeating to my mom and myself; "I'm going to Bahrain; I'm actually going to Bahrain". I can't believe it, but it is actually happening!
I meet Duncan and Leon on the airplane from Heathrow to Bahrain, just as excited as me! The butterfly in my stomach starts a big party when the airplane starts flying into Bahrain Airport. This is a trip that I have been looking forward to for several weeks!
The hot and humid weather hits us when we get of the plane. It's 30 degrees Celsius, AT NIGHT! WOW!
When we get to the hotel, we have a small late-night dinner and go to bed, we have an early morning!
Wednesday October 27th;
The butterflies in my stomach calmed down enough after a while to let me get some sleep. We had breakfast at 9.30 and left for the track. It was a 15 minute drive with desert all around us! On the way I even got the chance to see a camel!! That was a small sensation for me, who's never seen a camel in my entire life!
The day was mostly about preparing for the next day. And of couse we had to drink a lot of water all the time to not dehydrate. That was a little mission I had, bringing the team bottles of water from our tank.
Later that evening there was a press conference. It was awesome! We were given our own booths for the drivers with their teams to sit in, so the press could come around to interview us one at a time. And there were a lot of waitresses who carried around small snacks and refreshments! I felt like some kind of celebrity! They all had the same kind of questions;
How I came into racing?
What it felt like being the only girl competing in Top Fuel on this event?
If I was treated any different by the other racers?
What I thought of the track?
Being the only girl was so exciting, but I hope to be an inspiration to other girls and show them that we can also race Top Fuel! I feel that I have to give as much as the male racers, they look at me as a competitor just like any other. They don't give me any special treatment just because I'm a girl! They are so great, giving me advice and taking care of me as a rookie.
It was so great to get to be so close to all the other teams during the stay! Staying at the same hotel and having a pit-box all together felt really good. I got to talk a lot to all the other drivers and their team members, and got to know them all a little better!
The track was according to the other teams, much better than last time, so I got really excited about racing the next day.
After the press conference, we went back to the hotel, had another late dinner and went to bed to get a good night sleep before the big race.
Thursday October 27th;
I had a big breakfast to get me started! My entire body is shaking of excitement! My first day of racing in Bahrain, I have to pinch my arm several times just to be sure I'm not at home dreaming.
We stop by a shop on our way to the track to get some salt chips and some chocolate cookies. Sugar to help my body hold the water I'm drinking and sugar to keep my blood sugar from falling in the heat.
When we get to the track, Thomas and Barry take me to the track to "walk the track" with them. Barry has a tradition to always walk the whole track to check it out. It seemed like a great idea, and it was very nice to se how the track was.
Getting ready for my first run, I started jumping and smiled the entire time! I was so excited!
I went out against Gary Page on my first run. After 200ft I could feel that she (the beauty-dragster that I'm racing in) was letting go, so I got of the throttle and rolled over the finish line. It was so cool to get back to the pit box and see the picture that Tog took of my fist run with big "bunny ears" (flames) to the sides! My fist "bunny ear" picture!!!
After that run I felt a headache sneaking upon me. So I took a painkiller and tried to sleep for a little while before the next run. I knew that it could not be from dehydration, because I had been drinking very much water all the time.
When we were ready to go, the headache had let go a little, so we lined up. But unfortunately I just started feeling worse. I got into my racing gear and got into the car, they strapped me in and as I was being rolled up to the start line my entire body started shaking and I was freezing, and I felt like I was going to pass out. So I got Rune to get the car out from the line-up and my team had to help me out of the car. They got me over to the doctor in the ambulance and he gave me an examination. They took me to the hospital later to get some further examination. Thomas was so great and came with me to the hospital to take care of me! They gave me a needle in the bum and I felt a little better after a while.
Thomas and I went back to the hotel at 3 a clock in the middle of the night. Thanks so much to Thomas for all the help and for taking such good care of me! He's such a great team mate!
Back at the hotel I got something to eat and went to bed. Rune wanted Thomas to come with me to the track a little later the next day, so I could get some good night sleep, relax and get well. Friday October 28th; After a good night sleep I felt a lot better, only my poor bum was a little sore after the needle the night before.
On my first run out that night I went against Harland Thompson. I got to experience a small tire shake, and got off the throttle.
We were ready to go again after a short while, but because of a lot of crashes and cleaning the track so we had to wait for a long while. At 01:00 we finally got ready to race! As we lined up I heard Hip Hop music, they were playing Missy Elliot! She is one of my favourite artists!! I was rocking all the way until I had to get into the car. That run I made a good burnout, the car backed up just fine and staging was as normal. I left the start line and she was feeling really good! Tony told me afterwards that she was sounding like an American car! But then, after half-track, the engine blew into a ball of fire. I let go of the throttle immediately, stopped the engine with the "panic button" and turned of the fuel, and got out of the car as fast as I could. The engine was still on fire as I was getting out, but the rescue team were quick and put it out fast.
As funny as it may seem, after this experience, and after talking to my team about it, it felt good to have experienced it so early in my career. They told me that I could not have done anything better. Tony was great after the run and showed and explained to me what had happened with the engine. After that run, all the Top Fuel racers and teams gathered at the end of the track and towed back in front of the audience, they went absolutely crazy! They shouted that they loved us! Their interest was amazing; they were so engaged in the event! It was so great to race for such a crowd!
A BIG thanks to the incredible team who worked so hard in the heat! Thanks to Rune who helps me become better each race! And to Thomas who takes such good care of me! I can't wait to come back there to the track, the audience and the warm hospitality!
Thanks to everyone who made this trip so great!!
alastaro 2007
Wednesday;
I flew with Thomas from Gardermoen. I was so tired, and slept all the way to Finland. We got the rental car, and went straight to the track. None of the mechanics had arrived, so it was an easy and relaxed first day. I went for a run in the forest that surrounds the track before dinner. I try to keep fit and workout a little when I'm at the races as well.
Thursday;
Got to sleep for a little while, no rush to get to the track early when our qualifications does not start until the next day. Thomas's team arrived in the afternoon and they started getting the cars ready for qualifying. I got to go for a small run before I had to go to the airport and pick up my team. Their flight was delayed, so we didn't get back to the cabin untill 3 am! We all need to get all the sleep we possibly can before our first day of qualifying.
Friday;
Early morning and going to the track for our first qualifying round! It went quite all right, ran a 6.9 and was qualified. Unfortunately I could not make it to the next round out, so I was pretty nervous when the guys who could knock me off the qualifying list did their runs. But I just made it, and at the end of the day I was still qualified. Tomorrow's weather forecast says rain, rain, rain. So it's very important for me to be qualified today, in case we won't get to run tomorrow.
Saturday;
I woke up pretty early; it was Thomas telling us we could just keep on sleeping, because the rain was pouring down.
A few hours later the rain stopped and we went to the track. We got the cars ready, and I started to feel a little pressure. If I didn't do well on this qualifying round, I might loose my spot at the eliminations on Sunday. Once again I'm running solo, and I'm the last one out in my class. Right before I was supposed to run, they had to clean up the track. There was oil in the other lane. I waited for something that felt like forever! I'm glad I had my team and others to keep me company!
The run did not go as well as we were expecting. The tires started spinning about half track, and I had to let go! At the end of the track I screamed as loud as I could. I knew I had lost my spot in qualifying, and I had to get out in the next round to be able to get into the competition again. We had so much to do, and so little time too the next round. The crew at the end of the track had to laugh at me, I must have looked like some loony jumping and screaming.
And then the mechanics started working like mad to get me out there again. At first we thought the track had to close at 6pm, but when they told me that we had till 8 pm, we knew that there still was hope for me to make it.
I was so nervous that we were not going to make it, I could not sit still and when Thomas's crew had finished up with his dragster, they came over and helped out to get us done in time.
I tell you it could not have been more last second!! We were second out, and as Lex Joon did his burnout, that's when we came to the line up!
They started me up, but the drama was not over! When I was rolling forward to the burnout, she was barely moving, and I realized that I could not do a burnout, it would take to long to get me back to stage-in and there would not be enough fuel to run! When I got back and was ready to stage-in, she (the dragster) didn't move. I was almost rocking forth and back to try and move her; Rune came and slightly turned down the fuel pressure to help me out. That makes her move just a little. And it was enough to get me staged in. I saw the yellow lights and hit the throttle. Only thing in my mind was; "I will, I will, I will"! And I did!! I ran a 5.5, but the thriller was not quite over yet. Tommi was after me and he could still knock me off the list again.
We got to the weighing of the car and the entire team at the weight had their thumbs up telling me; "you're in girl"! Tommi ran a 5.8 and he was out. I cried and screamed and laughed all at once, I was so happy!
When I got back to our pit, I ran around and hugged everyone who had helped out to get us qualified! Such wonderful guys!!!
Tomorrow we're out against Urs Erbacher in the first run, he's a hard competitor! But one thing has been proved over and over again, everything can happen in drag racing!!
Sunday;
Early morning, get up and go to the track! Weather looks promising, it's cloudy, but no rain. Unfortunately I wasn't feeling too good, so I relaxed a little in the trailer when we got to the track.
One hour before the race we started up the engines and got ready to race Erbacher. I got into the suit, and as we were called to start lining up, it started to rain!
It looked pretty dark for a while, but it stopped last minute and we could get ready to get going. Urs was first qualifier, so he chose lane and when he wanted to go out. We were last pair. I was a little nervous, but everything calmed down once I got in the car and got strapped in!
Urs ran a fantastic race! And unfortunately I got a bad Tire shake as I left the start line and had to let go.
Thomas was racing Janne Ahonen, and Janne won. Too bad for Thomas, but good for Janne to do well at his home track!
Before the next eliminations it started to rain again, and they called it off.
It has been an eventful, exciting and wonderful weekend! I love Drag racing! So much can happen, you never know how the race will turn out!
Thanks to Tronrud Bygg, My new sponsor, and Sunoco! And the mechanics who worked hard and were as wonderful as always!