Duncan is the 2017 FIA Champion
In September 2016 he set a new track record of 3.89 sec. at Santa Pod, and after five years of racing two different cars and in only his second full season Duncan finally achieves his goal of becoming the European FIA champion.
Duncan was also named the sportsperson of the year in Malta for both 2016 and 2017.
He started his racing career in 2007, Karting in Rotax Max and became runner up in National Championship (he couldn't attend the last event).
In 2008 he bought a T-Bucket with partner Joe Ghiller and managed just six runs, the last was 8.5 seconds with nitro injected. John Cassar (nicknamed Lonz) was the team's Crew Chief and tuner and he used his experience for Duncan's needs. John was the only Maltese racer to drive a Top Fuel car on Malta, back in the early 1990s.
In 2009 he switched to Top Methanol Dragster with an ex-Andy Carter Top Fuel chassis. The team needed more crew members and former Knut Söderqvist Top Fuel team member Franco Pace came on the scene. It was a very difficult year for the team until they realised that they needed to change the engine and transmission in the car. A new set-up was bought in 2010, and installed in the same chassis. Timo and Dennis Habermann were contacted to tune and help with the new set-up. On 10th October, the very first run with the new set-up resulted in a 5.93-second run with a 0.93 sixty foot time. Two hours later they ran 5.92.
In May 2011, once again under the supervision of the Habermanns, he managed to run the car twice. The results were a disappointing 6.6 and 5.98. In November he managed a 0.92 sixty foot time but shook at 660 feet and recorded a 6.1. Two hours later he ran 5.83 with poor traction in the first half, just managed a 1.00 sixty foot time.
In 2012 he contacted RF Motorsport with the intention of going Top Fuel. Duncan Micallef did a splendid job at the Easter Thunderball with an early shut off 5.10 and low E.T. of the race. This was his first outing in a Top Fuel car, and he surely enjoyed it. Coming from Malta he wasn't too impressed with the weather, but the car and Antti's hard working crew made this race a nice one. He is now looking forward to the Main Event.
So really his career consists of just a few runs so far.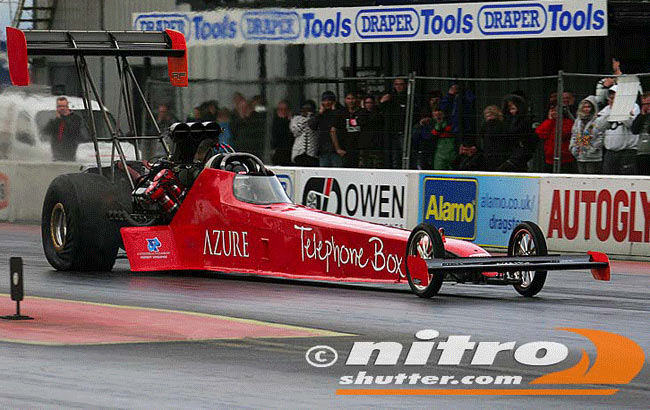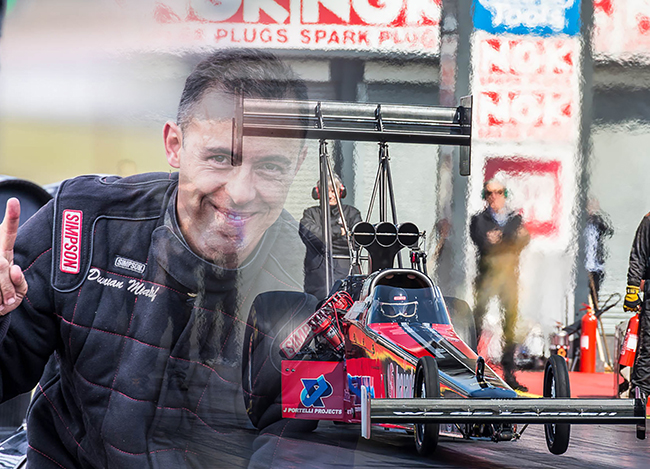 In his own words:
I didn't know what it would take to drive a Top Fueller but John told me that it would be tough. Some people thought that I was crazy, but I kept calm and I trained very hard before Easter. On the first run my aim was to keep calm and in fact that really works because I had no one to instruct me for the burnout and also the car wasn't staged straight, but I managed to go to five hundred feet with corrections to the steering all the way. On the second run we spun the tyres, which was an experience I needed to get the feeling, since my intention was not to hurt the motor. On the third run, which made me the fastest man in Malta, I told my crew that I was really prepared for it. Burnout and staged perfectly. On the throttle and never off it it all the way. What a feeling! Yes, they were right. It never stopps pulling. At 1200 feet the car went to the left but I corrected and got the 'chutes out. I knew it was a good run and when I heard 5.10 I was shouting and crying with joy. That was a massive relief of pressure! I wish to thank all my crew which includes Raymond, Kevin, Martin, and Antti's crew, my partner Joe Ghiller, big thanks to Rune Fjeld for believing in me all the way, and to all my supporters. Finally I would like to thank my sponsors Azure and J Portelli Projects for their trust in me from the start of this venture. See you at the Main Event in June for some more!